Getting The Word Out With Earned Creative
"Whatever you do, just make it viral!" enthused a prospective client. And sitting quietly, we nod our heads quietly and cautiously.
We totally get it – viral marketing is awesome. Viral marketing will blow your content all over social media, shared organically by people you don't know. It's a great bragging right. It's sexy. It makes your brand relevant.
But what makes a project viral? Is it still relevant in 2021?
In today's deluge of content that people are exposed to daily, an ad will hardly make a slight ripple within that ocean. What then will make waves and allow a brand to surf into people's stream of consciousness?
Enter Earned Creative
The field of advertising and public relations has changed dramatically. For several years now, traditional print and broadcast media have been disrupted as mobile-first technology influences and shapes the way we consume media.
Digital is the foundation in this data-driven modern world. According to Statista, from 2015 to 2020, the time Singaporeans spent on the internet almost has risen from 6h 59 mins to 8h per day.
In February of 2019, Edelman published a blog post which states the case for the decline in mainstream media which negatively impacting traditional public relations business. As a result, a few years ago Richard Edelman pivoted to expand beyond classic public relations to include something it's now put a name to – Earned Creative.
Mr. Edelman defined Earned Creative as "social by design and as fast as the news cycle." He added, "our ideas would be different than advertising, moving clients to take a stand, then encouraging consumers to build on the idea in their own way. Our mantra would become Act With Certainty, helping clients to move forward through tangible actions, using our unique skills to Evolve, Promote and Protect their brands and reputations." This positions Edelman in a strategic place to compete and win in this new arena, enabling the firm to act "…as the lead creative partner when a brand or business wants to disrupt the market by taking a stand."
People do not buy goods & services. They buy relations, stories & magic

– Seth Godin
The Rise in the Influence of Social
Without a doubt, word of mouth remains the most powerful and most trusted medium. It has evolved from face to face onto the digital medium. Social media platforms which are built for two way communication, allowing brands to engage with people has set the stage for the growth of influence for social.
Add to that the fact that the majority of digital media that people consume these days is on their smartphones and other mobile devices. Social media makes up a large portion of this digital media.
A study done by the New York Times consumer Insight Group identified the top motivations for people sharing content and information on social media. Forty-nine percent share "to inform others of products they care about and potentially change opinions or encourage actions". According to a participant, she shares to enrich the lives of those around her. For sixty-eight percent of the respondents, they "share to give people a better sense of who they are what they care about." In addition, it may come as a surprise, but one of the key motivations for people to share online is tied to building, growing, and nourishing their relationships with others. Seventy-eight per cent of people shares information online because it helps them stay connected to people they may otherwise not stay in touch with. As a result, social media has evolved from a place to stay in touch with friends to a platform for social change.
Globally, there are over 2.8 billion monthly active users on Facebook as of December 2020 (Facebook) and 1.1 billion monthly active users on Instagram as of January 2021 (Instagram). This provides brands with the opportunity to connect with consumers in a meaningful, timely, and personal way with large global audiences. A perfect environment for earned creative to thrive with as content produced as part of an earned campaign is designed to be engaging and shareable.
What Makes Up Earned Creative?
A helpful rephrasing of "make me go viral" dissected by examining the main elements that make up a successful earned creative campaign.
Strategic timing
Relevant message, and
Shareable creative.
Earned creative campaigns may be triggered by current events. The first step is to pay attention to the news cycle. By plugging into the current streams of conversation, brands can recognize opportunities for their voice to be added in a timely manner to issues that reside in the collective public's consciousness. This allows brands to ride the currents of conversation, which leads to timely reach and engagement.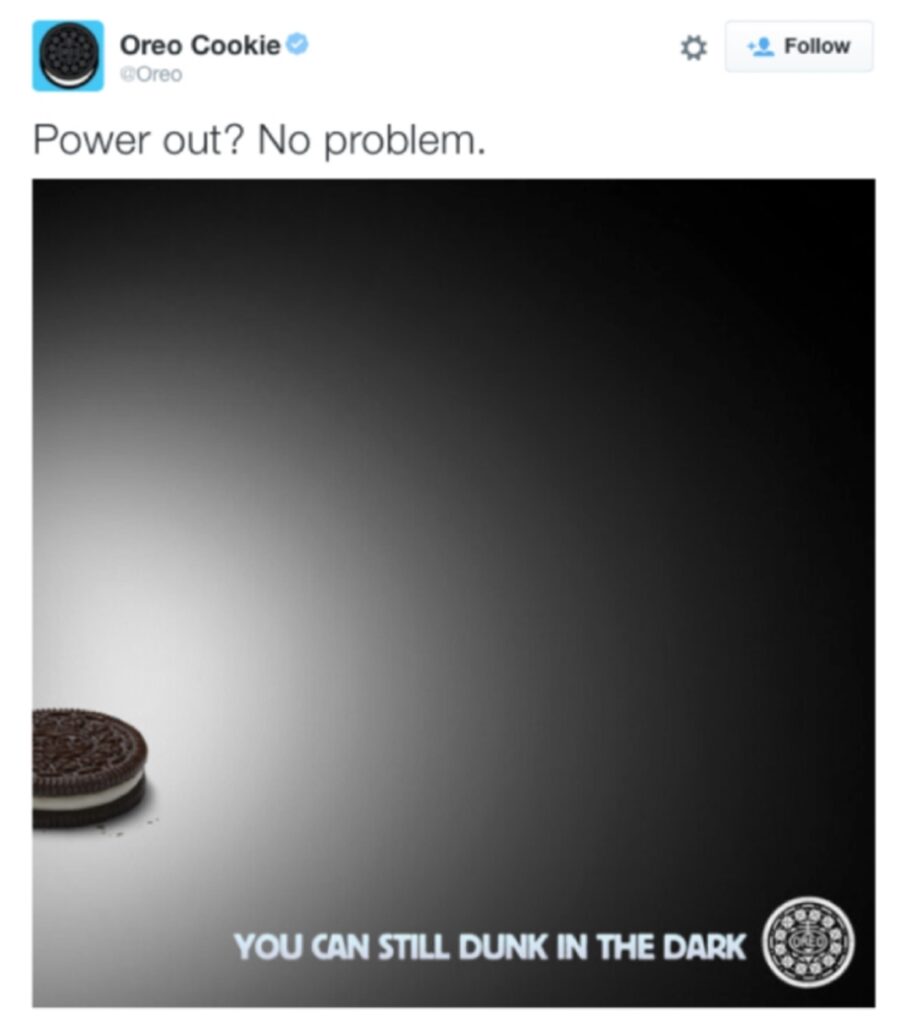 The next step is to develop a message that connects your brand to the public conversation. The message could be the brand's standpoint on a social, political, or public issue. It is crucial that the message is in line with the brand's values and is relevant to its audience. Consumers are more likely to engage with messages that resonate with them on a personal level. Whether people agree or disagree with a brand's standpoint portrayed in a campaign, the engagement from both camps will add fuel to the overall conversation and result in organic amplification of the campaign. It is therefore important for brands to evaluate carefully if the conversation is in line with its brand values and intrinsic purpose.
After identifying the right opportunity for your brand to jump in a campaign with a relevant and well-developed message that connects to global or national issues, the next component is the shareable content. Earned creative is based on content that is easily shared and engaged with. A common shareable creative are short videos that anyone can quickly consume and share on their timeline. Such videos are usually designed to provoke a response and action.
Earned creative allows brands to maximize social sharing without spending too much on paid media. Having an ad and message shared organically requires an investment in public conversation related to current events and turning into a message and creative content. Having the content shared on social, a great earned creative reaches to bigger audiences who are inspired to engage and participate, adding their own creative take to make it so much more powerful.
What Do I Stand For?
These days consumers are looking at other things when considering products, such as a brand's stance on human rights and environmental sustainability.
61% of millennials are worried about the state of the world and feel personally responsible to make a difference.

Huffington Post
In August 2016 Colin Kaepernick, quarterback for the 49ers, did not stand during the national anthem at the beginning of an NFL game. In an interview after the game, Kaepernick explained "I am not going to stand up to show pride in a flag for a country that oppresses black people and people of colour. To me, this is bigger than football and it would be selfish on my part to look the other way. There are bodies in the street and people getting paid leave and getting away with murder, the American flag represents what it's supposed to represent." A heated national debate on the rightness of his actions grew out of his act of physical and peaceful protest.
Nike chose to boldly take a clear stance on a very polarizing issue. In 2018 Nike launched a "Just Do It" campaign featuring Colin Kaepernick. The campaign included a video and a black and white picture of Kaepernick overlaid with the copy: "Believe in something. Even if it means sacrificing everything. Just do it."
Four billion dollars was spent on creating the campaign. Following the campaign which saw Nike taking a stand on a divided issue, Nike experienced a drop in revenue and the loss of some customers.
But their bold move paid off. Nike's stock reached an all-time high of $83.90. Nike's Instagram account also grew by almost 170,000 followers.
Creating A Social Wave
Moving away from just the simple idea of viral and into the conversation of a purpose will work in favour for brands.
In 2014, during the annual San Francisco Pride Parade, Burger King decided to tell a story with its food. One of its outlet restaurants sold a limited edition "Proud Whopper".
In this social experiment, customers had no idea what it was or how it was different from a traditional whopper. Upon consumption, they discovered that the only thing that made the "Proud Whopper" different from a traditional whopper was the outer wrapper. The burger itself was the same. The wrapping of the "Proud Whopper" was in the design of a rainbow flag on the outside and on the inside of the wrapper, a phrase was inscribed: "We are all the same on the inside".
The campaign's goal was to challenge stereotypes and prejudices. A video was created of people's reactions to this limited edition burger. The video trended on Facebook and Twitter, went viral with seven million views, and was mentioned in blogs 450 thousand times.
This social campaign for Burger King has set off a firestorm of backlash among customers, with hundreds of people vowing to boycott the fast food chain. But it also generated over one billion media impressions, worth 21 million dollars in earned media. One customer in the video reacted by saying: "It is the same burger. It's the same sh*t. Oh, we are all the same inside! I like that. I cried in there because I was overwhelmed, a burger has never made me cry before. You are totally crying."
Despite the backlash, many people praised Burger King for their colourful 'Whopper' and vow to visit the chain more often. Burger King donated proceeds from the $4.29 "Proud Whopper" to college scholarships for lesbian, gay, bisexual, and transgender high school seniors in the class of 2015.
Transformational Opportunities
A similar case study on Earned Creative comes out of Brazil where one of the most famous homophobic expressions is "Essa Coca é Fanta" or "That Coke is a Fanta". For years, this expression was used to make fun of the LGBT+ community in the country.
In support of international LGBT+ day, Coca-Cola decided to flip the meaning of the phrase with a message of their own. They created a limited edition of Coke cans that had orange Fanta. The outside of the red Coke can read "This Coke is a Fanta. So what?" The mission of the can was to subvert discrimination, eliminate prejudice and encourage people to ignore labels.
The campaign spread across social media timelines, took over the streets with people making their own DIY Coca/Fanta bottles, carnival costumes, clothes, and cellphone covers to transform this expression into a symbol for Coke and Brazilians to fight prejudice. The online and offline world merged on the Carnival street parades transforming the phrase into a symbol of empowerment and pride.
Engaging and entirely organic, the campaign delivered for Coca-Cola 1 billion media impressions with a zero dollar media spend. It changed the biggest search on Google history for the term and turned it into an expression of empowerment and pride.