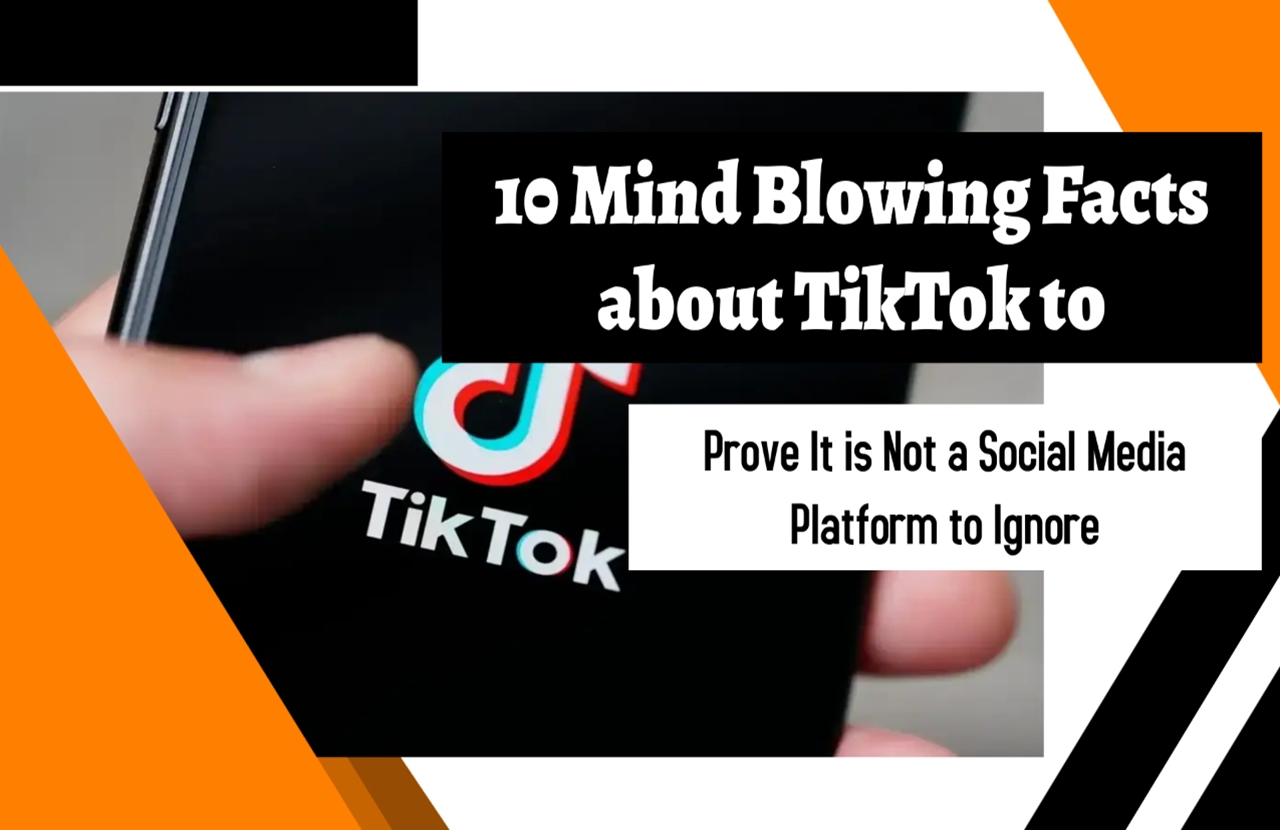 10 Mind Blowing Facts about TikTok to Prove It is Not a Social Media Platform to Ignore
The previous article talked about the rise of TikTok and global popularity.
This article sourced from Influencer Marketing Hub presents 10 mind blowing statistics that will show you TikTok is here to stay and is not to be ignored.
1. TikTok Users Spend More than 850 Minutes Per Month on the App
According to Statista, US TikTok users average 858 minutes per month on the app. This statistic gives information on monthly TikTok app user engagement in the United States in March 2020.
If you examine the data from October 2019 to March 2020, you will note a considerable increase in the time that the average TikTok user spent on the app. Usage grew from an average of 442.9 minutes per month in October 2019 to 526.1 minutes in November, 561.2 minutes in December, 680 minutes in January 2020, 731.6 minutes in February, and 858 minutes in March 2020.
2. Most Popular Overall App Downloaded Globally in 2020
When you add both Apple and Android downloads, TikTok surged ahead of all other apps in 2020, with global downloads of 850 million. This compares to second-placed WhatsApp's 600 million downloads. TikTok's figures include downloads of Douyin in China (which accounts for about a quarter of overall downloads.) Notably, TikTok also topped United States app downloads, at 89 million, despite President Trump's threat of banning it. Perhaps even more surprisingly, with 120 million downloads, TikTok was the most popular app downloaded in India, despite being prohibited from July onwards.
TikTok reached its peak for downloads in Q1 2020, when it was downloaded 315 million times, according to Sensor Tower. Monthly peak downloads occurred in March 2020 – the first month of widespread Coronavirus lockdowns.
3. 150+ Countries
According to Apptrace, the TikTok app is currently available in 141 countries. It is in the top 25 overall in 139 of these countries.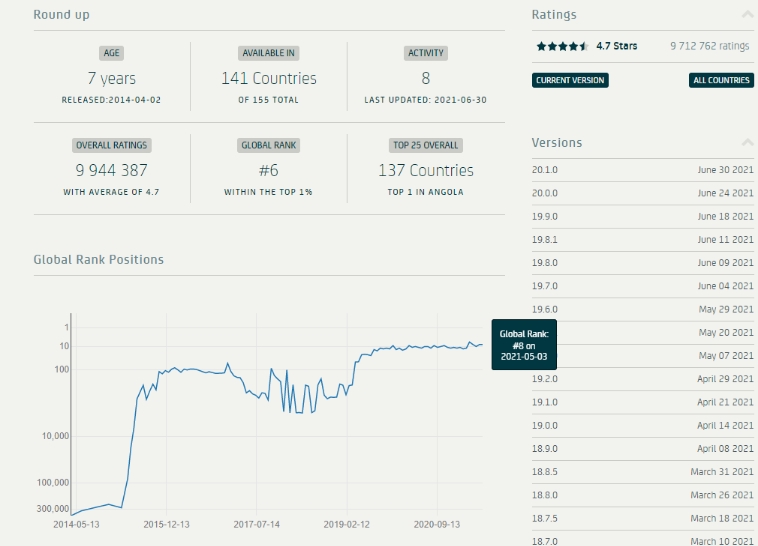 Source: apptrace.com
However, the official TikTok Creator Marketplace now claims that TikTok is now available in over 150 markets and is one of the most downloaded apps in 40+ countries.
4. Highest Social Media Engagement Rates Per Post
Recent Upfluence data shows better engagement rates across different follower levels for Instagram, YouTube, and TikTok. At all follower levels, TikTok has considerably more engagement than either of the other two networks. For example, Upfluence found micro-influencers had engagement rates of 17.96% on TikTok, 3.86% on Instagram, and 1.63% on YouTube. At the other extreme, mega-influencers had engagement rates of 4.96% on TikTok, 1.21% on Instagram, and 0.37% on YouTube.
5.  $110 Million Estimated Monthly User Spending
TikTok's earnings have risen proportionately with its increase in popularity. According to Sensor Tower data, TikTok was the top-grossing non-gaming app worldwide for February 2021, with more than $110 million in user spending, 1.9 times its revenue in February 2020.
6. Nearly 100 Million App Installs in India in 2020 Despite Being Banned For Half the Year
India is another populous country whose youngsters were attracted to TikTok. TikTok had amassed more than 200 million users in India by mid-2020 before the government chose to ban it for political reasons. As we have seen above, it was still the top downloaded app in the country in 2020. Every month between July 2019 and June 2020, TikTok was downloaded more in India than anywhere else.
7. 1,000,000 Estimated Daily Page Views
Within a year of TikTok's development, it had already reached the milestone of 1 million views per day.
8. More Than 90% on Android Devices
Echoing Android's smartphone market dominance, more than 90% of the TikTok downloads have been made to Android devices. The sole exception to this is the USA, where there are more iOS users.
The vast majority of India's TikTok fans used the Android version of the app.
9. Nine Out of Ten TikTok Users Use the App Multiple Times Daily
According to official TikTok statistics, its users are loyal and keep on returning to the app. Indeed, 90% of users use the app multiple times per day.
10. 3rd Fastest Growing Brand of 2020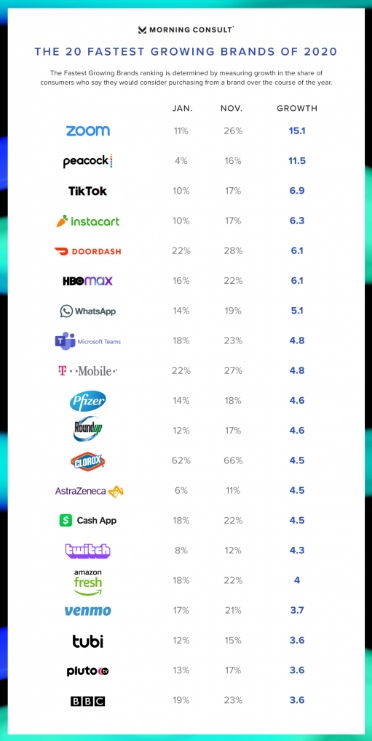 Source: morningconsult.com
When Morning Consult created their Fastest Growing Brands 2020 report, they named TikTok the third fastest growing brand after Zoom and Peacock. Morning Consult observes that nearly every brand that occupies a spot on the Fastest Growing Brands list is meaningfully connected to pandemic-related behavior. Notably, six of the 20 Fastest Growing Brands are involved in video streaming: Peacock, TikTok, HBO Max, Twitch, Tubi T.V., and Pluto TV.
With Peacock appealing more to older generations, TikTok was the second fastest growing brand of 2020, behind just Zoom, for Generation Z and Millennials. Perhaps surprisingly, TikTok even made the list (in tenth place) for Generation X.
Can't find the time or don't know how to get your social media up and running? Professional social media agencies will handle all aspects of social media work for you at a fraction of the cost of hiring a social media executive.
Talk to the Mustard Seed Digital Team at +65 64431415 or visit our Get In Touch page
For more of such interesting content, subscibe to our mailing list at email contact@mustardseedigital.com