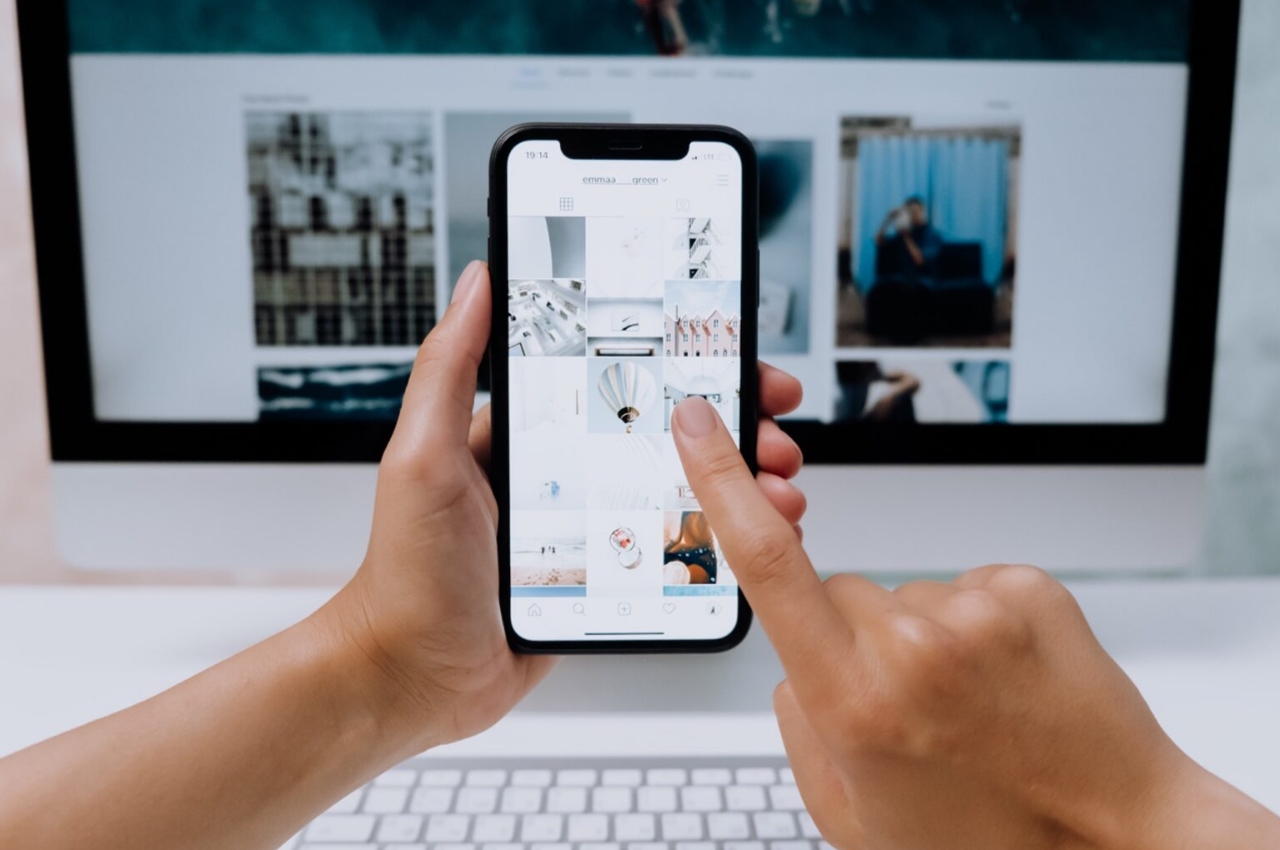 Social Media Marketing In Singapore: 6 Reasons Why It Is Essential For Brands
Let's start with one simple fact: your business needs a social media presence. It doesn't matter if you run a small bakery in HDB or a big national company. Social media is an essential piece of your business digital marketing strategy that you should not ignore.
Social platforms such as Facebook, Instagram and LinkedIn help you connect with your customers, increase awareness about your brand, and boost your leads and sales.
With more than three billion people around the world using social media every month, the users and engagement on major platforms just keep increasing.
Let's look at the statistics in Singapore: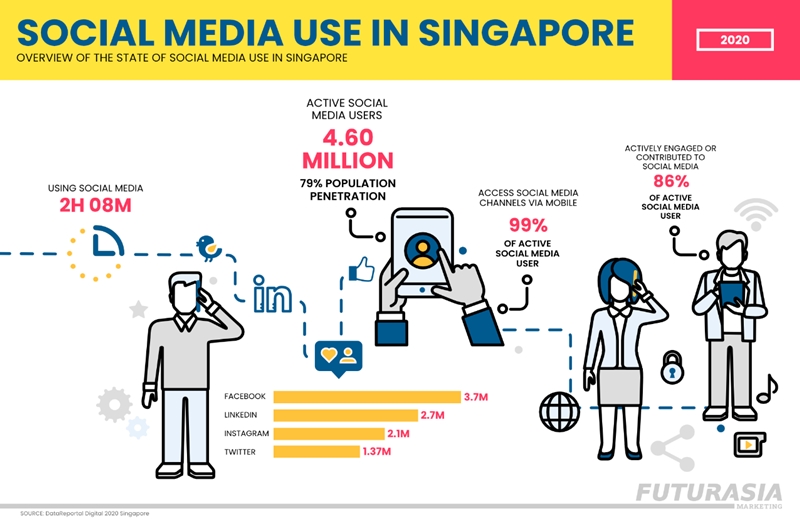 Social Media Is ENGAGING
Let's start with pointing out that social media is a platform that people willingly engage in. 4.6 million Singaporeans are active social media users. That is a whopping 79% penetration rate of the whole population.
Singaporeans are on social media because it is where they seek the latest news and buzz, find out what their family and friends are up to, receive recommendations, get entertained and a host of other reasons. Most importantly, it is the platform where they are most receptive to hearing from brands.
It's not a captive audience model, it's not a "stuck in a traffic jam or waiting for a bus therefore I will look" model either.
By being on social media, you're giving your brand access to the majority of the audience in Singapore who spend an average of 2 hours a day engaged on social media. It provides an opportunity for brands to have 2-way conversations with their audience, customers and advocates. With the nature of social media, you will gain valuable insights into the perceptions and sentiments towards your brand, service, products and customer service.
Social Media is HIGHLY PERSONALISED
Social media marketers have a massive amount of data and information at their disposal. With data points collected based on user habits such as pages followed, posts liked, keywords use, content engagement, social media platforms can recommend content and ads that are highly personalized and targeted. These insights allow brands to optimize their marketing and to personalize social media messages.
This is becoming increasingly important as people have content coming at them from every direction. If you want any chance to stand out, you'll have to add some personalization.
Personalization on social media means that your business can craft and serve content to your targeted audience who are keen to engage with your brand. No more having to cast a wide net and end up only snagging a few customers which is an expensive and highly inefficient marketing model.
As a travel-lover, I'm constantly searching Airbnb's site or mobile app for dreamy accommodations – even during this lockdown! It doesn't hurt to dream a little of Ubud getaway, does it?
After checking out a few listings, I noticed the following personalised ad in my Facebook News Feed.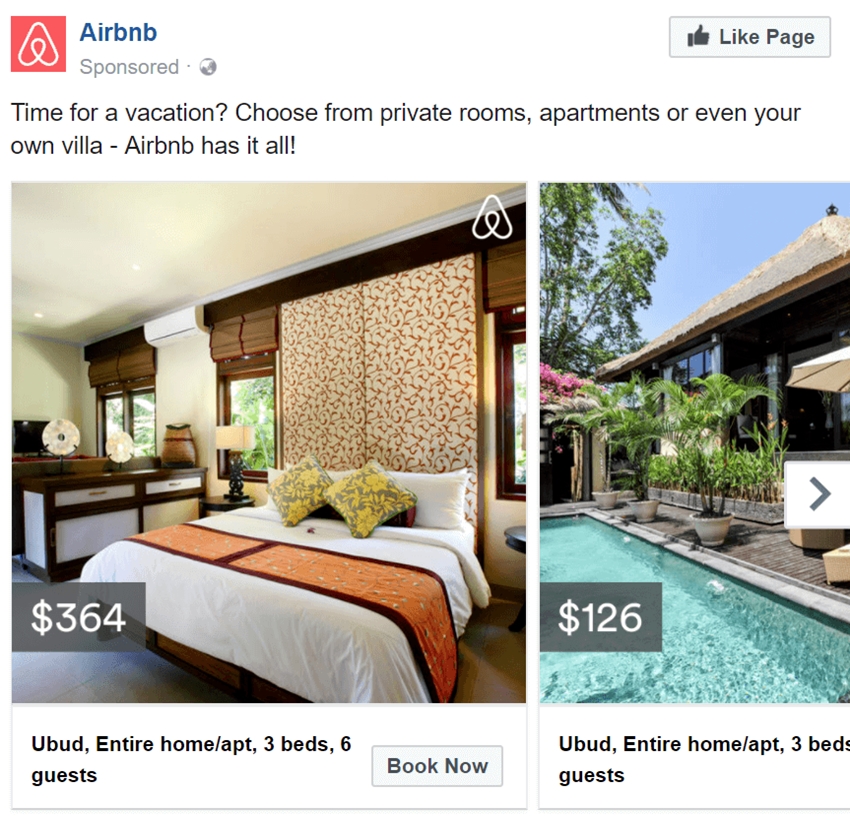 This personalised ad which is a form of retargeting ad contains a photo of a listing I viewed with a call-to-action button to "Book Now." As if the offer wasn't tempting enough, the retargeted Facebook ad makes it easier for me to complete the booking with a few clicks.
Social Media is SCALABLE
Marketing on social media can be scaled to fit your budget, unlike traditional advertising which requires significant upfront investments such as a television ad or a billboard print ad.
Compared to traditional media marketing avenues, digital marketing on social media provides a relatively inexpensive platform for executing campaigns. You can ramp up or trim down social media activities based on your requirements, objectives and resources.
Often, when you're on a budget and planning your cash flow, making appropriate decisions about which aspect of social media marketing you need to invest more money in can be challenging.
The ultimate question isn't how much your budget is, but how it can work for your campaign. Brands can evaluate campaign results through each platform's analytic tools. You can use the data to calculate costs and estimate potential customers' behaviours to adjust your campaign strategy. You can easily see how many people clicked on links and how many shares took place during a specific period. The real traffic numbers are an attractive feature compared to traditional marketing – in offline campaigns, it is harder to measure and know your audience behaviour.
Social Media is TELLING YOUR BRAND STORY
The finest marketers have always used traditional storytelling structures to share their messages. And time and again, this has helped them connect with their audiences and inspire them to act.
However, how much of your brand story can you cram into a press release or TV commercial?
Social media can serve as an effective tool to sell stories that engage customers, build brand loyalty and affinity, and generate sales. Brands can build up a series of content posts to relay the message engagingly. Give your audience a regular dose of history, facts and trivia about your brand – tell them how the company has evolved and what holds relevant in guiding its mission, values and offering today.
You get to tell your brand story in the way that resonates with your audience. If your brand originates from another country while your audience is based in Singapore, you can also share how it was introduced into Singapore, how people adopted it and its journey to becoming an important part of Singaporean's lives.
There are numerous ways you can tell your story. Each social media platform is different from the other and has its own strengths aiding you to tell your story.
For example, Facebook Timelines are perfect for sharing status updates, images and videos that tell a story over a period of time. The 'Milestone' feature can be used to share your brand's special moments (such as the founding date) with your customers.
The 140-character word limit on Twitter is ideal for sharing breaking news and making announcements to capture the audience's attention, even if it is for a short span of time.
A lot of startups use photo-sharing websites such Pinterest and Instagram to create visual stories that aid their goals. Similarly, YouTube can be used to share a series of videos.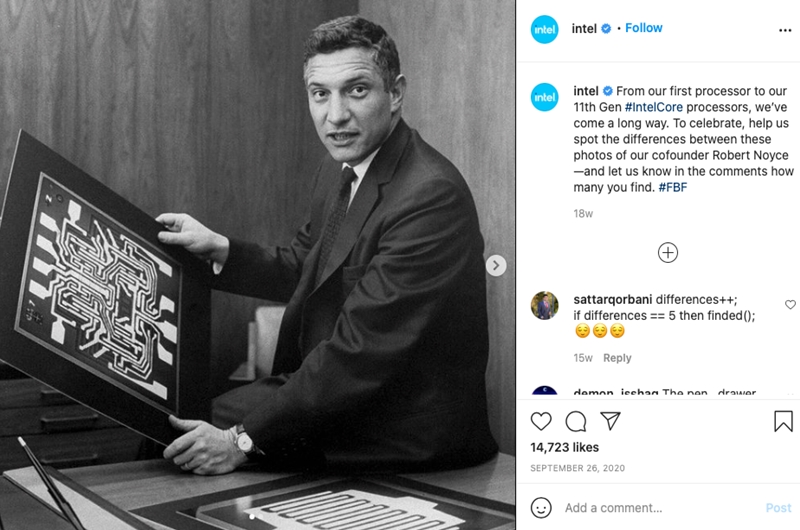 Intel does this well on Instagram, where it uses powerful images and captions to show the brand's history – its founders, notable employees, initial products, etc.
But sometimes, a brand's history doesn't have to be so far in the past. Documenting the company's latest products and how they're being used speaks to where it is now. When combined with archives from where it started, it helps to paint a complete picture of the brand and shows the company's evolution over time.
When you see a picture of the first computer being operated in the same feed as the latest drones being used to help marine research, it shows just how far the company has come in a way that words alone can't. This is an example of storytelling through social media that helps forge a relationship on a more personal level. If followers can see the faces and understand the story behind the brand, it will help to establish common ground and build brand trust.
Social Media is BULDING YOUR BRAND PERSONA
Your brand story is just one part of your overall brand strategy. Another key part of branding is your brand persona – the personality traits, attitudes, emotions, tone and characteristics associated with your brand. It is how your company connects, communicates and interacts with the target audience. Think of your brand as if it was human – how do you create a personality reflecting that of your target customers.
Consumers want to connect with a brand personality, not just a logo or a product. They care a lot less about how many awards you've won or how long you've been around, and a lot more about who you are and what you stand for. In fact, studies have found that almost 90% of people would buy from your brand if you advocate a cause they care about. Besides, no one wants to talk to a logo — they want to talk to real people. Consumers are now associating themselves with the brands they use and consider them an extension of their own personality.
On social media, you can you create an authentic persona that fits your brand, communicate your message and works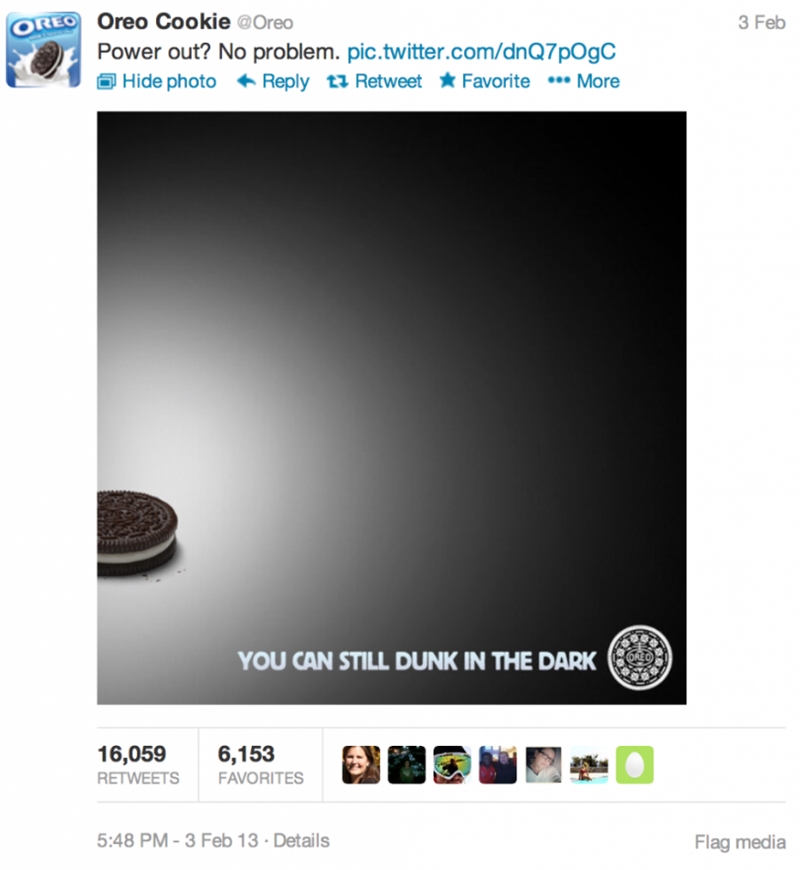 Oreo has built a great brand persona using Twitter effectively. The brand's interaction on Twitter shows that it not only has a finger on the pulse of its audience, but it can react with whip-smart efficiency.
Remember when the power went out during the Super Bowl in 2013? Within minutes, @Oreo posted an ad on Twitter that showed a single Oreo in a shadowy backdrop with the title: "You Can Still Dunk in the Dark." The caption below read: "Power out? No problem." Followers loved Oreo's funny take on the power outage and retweeted the meme more than 10,000 times in one hour. The quick-witted tweet likely had an even greater payoff than Oreo's actual Super Bowl ad, which cost millions to create and more to be screened at Super Bowl itself.
Social Media is PERFORMANCE MARKETING
Half the money I spend on advertising is wasted; the trouble is I don't know which half

John Wanamaker
In the days of traditional media, it was extremely difficult to measure the success of a campaign or to attribute which marketing tactics are converting to leads or sales. In this model, you pay upfront for a desired effort, hoping it results in your chosen action. This might mean paying for your ad to be in a magazine with an estimated reach, hoping it will drive customers to your website or store. With traditional advertising, the results can be estimated, but they are never guaranteed.
Performance marketing flips this model on its head. With performance marketing, you're paying for the actual performance of the marketing partner, not just the effort exerted by them to promote your product or the reach that they have.
Through social media marketing, you acquire visibility, traffic, and customers through advertisements placed on social media websites such as Facebook, Twitter and LinkedIn. You can get performance data for each post, ad or campaign accurately.
Social media metrics are important because they prove you can measure how successful a campaign is, how well your social strategy is performing, and ultimately if you will have an impact on your overall business. Not only does having these metrics allow you to showcase the impact of your work, but providing consistent social media metric reports can lead to major shifts for your social team, including budget increases and increased access to resources. And last but certainly not least, metrics keep you aware of general social profile and brand health – you don't know the impact of your social media presence until you have the data to back it up.
We understand that managing a brand's social media pages can be intimidating. It takes strategy, research, planning, consistency, intuition, understanding and technical skills to successfully manage a brand's social media pages. It would take a load off your shoulders to have a team of industry experts work closely with you to help navigate through the world of social media.