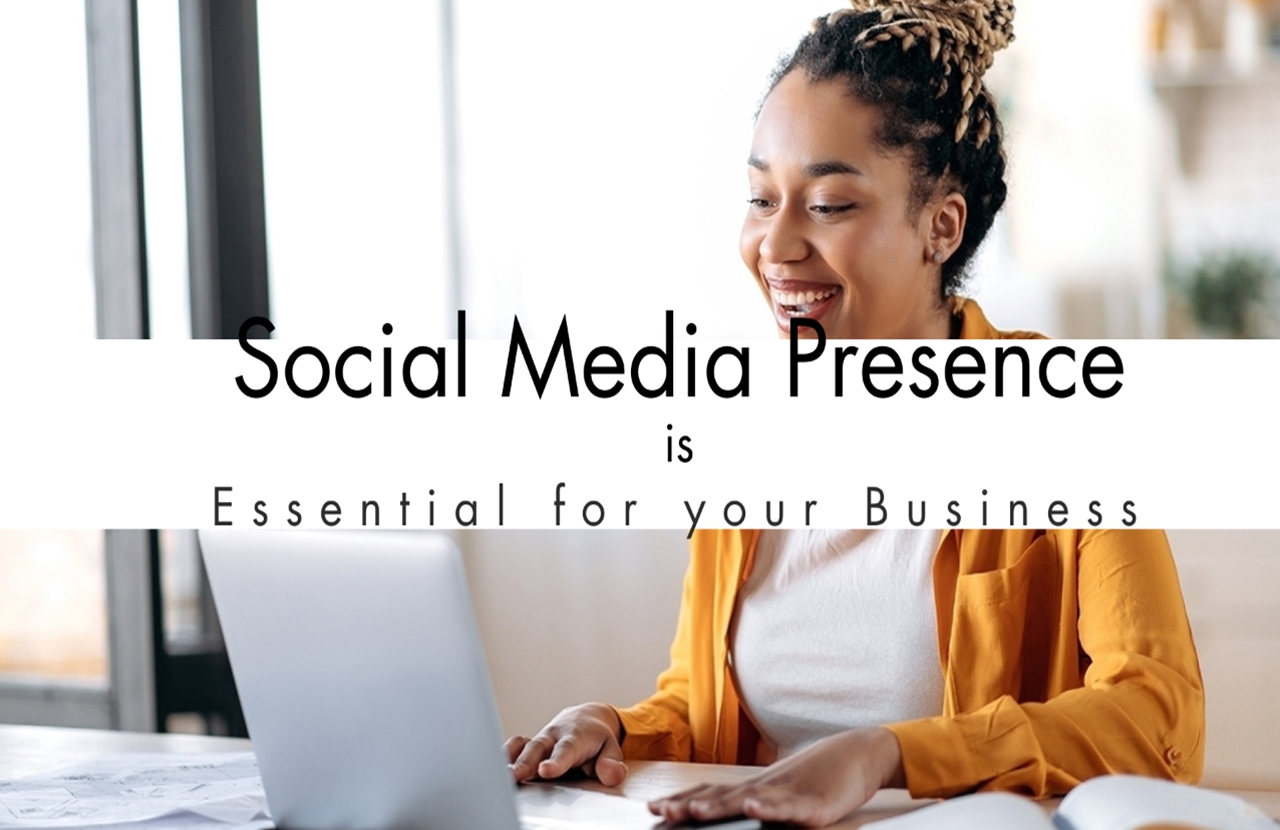 Social Media Presence is Essential for your Business
For big and small businesses alike, social media is an essential component of your business marketing strategy.
Social platforms help you connect with your customers, increase awareness about your brand, and boost your leads and sales. With more than three billion people around the world using social media every month, the users and engagement on major platforms just keep increasing.
Number of social network users in Singapore from 2017 to 2020 and a forecast up to 2025
(in millions)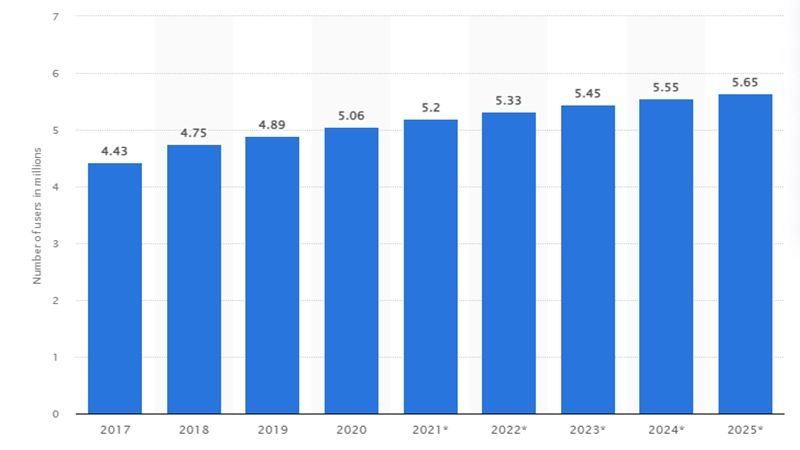 The number of social media users in Singapore has been increasing year on year since 2017 and is forecasted to increase steadily to 2025 and beyond, hitting 5.65 million users in 2025.
Even if you do not know how to use social platforms proficiently or have the time to manage your platforms with internal resources, it is important that you still get started immediately. You can explore engaging social media agencies to help you strategise, create content and manage your social platforms with timely reporting at a fraction of the cost of hiring your own marketing executives.
Social media provides immense potential for businesses because consumers habitually log on to it daily and are exposed to companies. It also presents huge challenges for businesses, however, because it's an ever-changing space that is extremely noisy and crowded.
It can be difficult to keep up with evolving trends on social media, so B2B reviews and ratings firm Clutch partnered with marketing agency Smart Insights to learn the current state of social media marketing; they surveyed 344 social media marketers from around the world to determine the value of social media, the most engaging content to share, common challenges, and what social media resources businesses are investing in.
Here are the results:
52 percent of social media marketers believe social media positively influences their company's revenue and sales.
The five most valuable social media platforms:
Facebook (89 percent)
LinkedIn (83 percent)
YouTube (81 percent)
Twitter (80 percent)
Instagram (56 percent)
Nearly 80 percent of companies share mostly original content on social media.
The most important metrics for companies are engagement (36 percent) and conversion rates (35 percent).
Social media is more valuable to B2C (58 percent) than B2B companies (46 percent).
The biggest challenges with social media are:
Not having enough human and financial resources (26 percent)
Lacking a formal strategy (24 percent)
Building a community of followers and influencers (24 percent)
Here are six things you can try out yourself to realize that social media is a wise business move.
1. Get Attention and Build Awareness
People who do not know your business can never become your customers. Your visibility can be boosted via social media to potential customers and allow you to reach a wider audience that you could never reach organically. Business profiles can can be created on social platforms for at zero fees.
Although it is easy to create business accounts on social platforms, it is a very crowded space with millions of businesses promoting their brands. Here are the most engaging types of social media content you can create.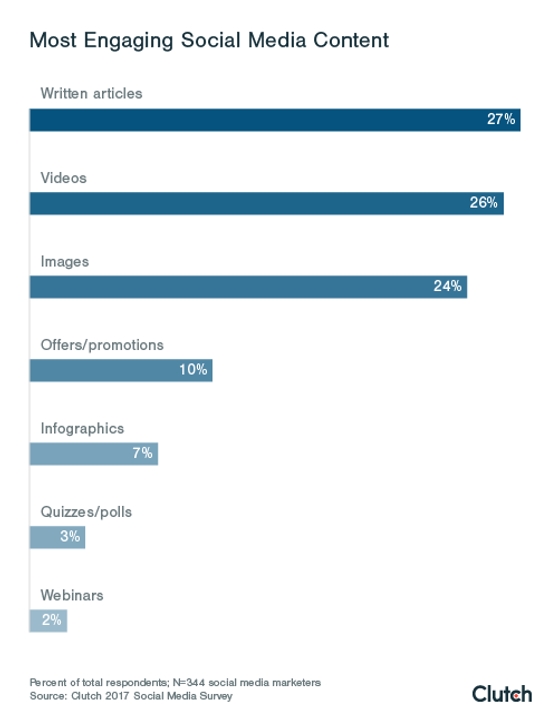 In the above survey by Clutch, articles, videos and images were most successful at engaging customers and breaking through that noise.
"These content types are effective in getting cut-through in newsfeeds, so it's important to not only use them, but to invest in them so the quality is there," Smart Insights CEO Dave Chaffey said.
A content strategy has to be carefully thought through and executed to cater to messages customers want to see. These can help them identify with your brand and encourage them to click on the post or comment on it to create user engagements.
It is important to be clear in your definition of your social media objectives and to develop your strategy to achieve these objectives. Objectives can range from enabling new customers to discover your brand, your services or bringing in more footfall into your store. Keeping your strategy specific can determine which social media channels are the best choice.
2. Communicate Authority
We are no longer in the era of unsavvy social media users and customers. The modern day customer is not savvy and discerning on which businesses they support. Prior to making purchase decisions, it is common that customers will do research on your website or social media pages before making a decision.
Seeing an empty page or last post update months ago isn't exactly confidence inspiring. Setting up robust profiles and having frequent updates with relevant content on your website and social media pages will build the authority of your brand and pages and enable you to make a good first impression. Your business must be seen as trustworthy, knowledgeable, and approachable.
Pushing your products and services all the time is not the way to go. Look for creative ways to demonstrate your expertise as a thought leader in your industry. This can be done by writing articles related to your domain of expertise or talking about the mission of your company. By demonstrating your company's values and expertise, you establish confidence in potential customers.
3. Show Authenticity
Publishing corporate style social media doesn't connect with customers.
Your brand personality should show and shine on your social media posts. What do you want your brand voice to sound like and will it represent who you are accurately? Finding a voice for your brand. Be true to who you really are. You can be casual, funny, friendly or professional. Followers want to see real people behind the social profiles.
4. Encourage Engagement
Simple posts such as sharing your services can receive likes, comments and shares. Conversations happen on your social pages between your brand and clients or even between strangers.
Social media enables conversations to happen in real time, relationship building, and customer loyalty.
Social channels evolve, constantly releasing new features, and this rapidly changing environment can be intimidating for some business owners.
However, recognise that you don't have to do everything. Play with new ways to connect with your audience, and give yourself permission to learn as you go. One day, you could post a series of Instagram Stories to give customers a behind-the-scenes tour of your office. The next day, you could host a quick Q&A session via Facebook Live video streaming. Over time, you'll get a better idea of your followers' preferences. Explore creating video content with a simple setup—good lighting, a smartphone, and a tripod. Alternatively, social media agencies could do this for you.
5. Grow Affordably
One important thing to avoid on social media is to be entirely salesy. Recognise that good content creates engagements and conversions will come as a byproduct. However, make the best use of opportunities to make sales through sponsored info on timelines, videos with CTAs, cross-channel retargeting and shoppable posts.
Marketing costs can add up and not all businesses have the resources to create huge campaigns month after month. No matter the size of your budget, use social media to grow your audience and reach your objectives through ads on social platforms like Facebook and Instagram. Even if platforms such as Instagram are primarily geared towards engagement, there are established ways to increase sales on them.
"Social media, unlike other kinds of advertising, can be notoriously difficult to track," said Steve Pearson, CEO of Friendemic. "Most consumers say it takes many touch points in their customer journey before a purchase. A lot of those are undoubtedly on social media and online review sites, but customers aren't necessarily citing those when they walk into a business as the last touchpoint that brought them in today."
When building an ad campaign, know who you're trying to reach and what goal you want to achieve so you don't waste any of your budget on unhelpful advertising.
6. Provide Support
Social platforms have enabled companies to connect directly and immediately with customers. Customers now prefer to use Facebook or instant messaging apps to solve problems or find information instead of calling the customer service hotline.
Here are some ways to create a responsive, caring brand by offering support through social channels:
Create a system for tracking customer comments, questions, and complaints on social media.
Respond as quickly as possible to questions and concerns.
Go out of your way to be positive and helpful.
Listen to criticism and make customers feel heard.
Know when to resolve public conversations in private messages.
Social Media is Essential for Businesses
Social media is a crucial part of your business marketing, but it doesn't have to be stressful to manage. Take the first step, create a profile, and start engaging with your customers.
As it continues to weave itself into the daily patterns of our lives, more consumers will go to new and upcoming social platforms for purchasing decisions. Those who have a strong social media presence and branding will increase conversion rates, while those without active social media campaigns could lose potential customers. Which company do you want to be?
Still can't find the time or don't know how to get your social media up and running? Professional social media agencies will handle all aspects of social media work for you at a fraction of the cost of hiring a social media executive.
Talk to the Mustard Seed Digital Team at contact@mustardseedigital.com
For more of such interesting content, subscibe to our mailing list at https://www.mustardseedigital.com/get-in-touch/